This slideshow requires JavaScript.
NinjaTrader Development Certified NinjaScript Consultant Specialists –  Get your Winning Trading System Quotation
Ninjatrader Automated & Discretionary trading System Specialists development for NinjaTrader 7 & NinjaTrader 8, Indicators & Strategys Programming & NinjaTrader 8 Migration services –
Save time & money Get your NinjaTrader project written by a Pro correctly the first time, in the least time & cost & best quality available using the NinjaTrader professional unmanaged mode for the best possible features, execution and error free trading – written in institutional grade maintainable readable code using a lightweight agile project methodology so your product evolves with your feedback using continuous release and development of each feature
Get your Free NinjaTrader Development Quotation
Feel free to contact us  via  the form below – you can add more details and send files or images to the auto reply you will be sent to say we have received your NinjaTrader programming project quote request
NinjaTrader 7 to NinjaTrader 8 – Migration services
NinjaTrader 7 & NinjaTrader 8 Indicators – Trading Chart Technical Analysis Indicators & Discreionary Trading Systems
NinjaTrader 7 & NinjaTrader 8 Strategies – Algorithmic Automated Trading System strategy development
NinjaTrader 7 & NinjaTrader 8 – Trade Strategy Analysis – back testing, optimization, data analysis
Ninjatrader development by MicroTrends provides traders with very experienced professional certified ninjaScript consultancy programming services specialising in C# & .Net quantitative NinjaTrader development & algorithmic trading – Our founder & CEO Tom Leeson started developing for institutions from 1995 & created MicroTrends in 2006 and  has been  specializing in NinjaTrader  trading indicators & automated trading systems as a certified consultancy since 2009. MicroTrends is a leading automated trading systems specialist for NinjaTrader Strategy development for commercial, retail trading and vendor systems. Experts in realtime tick by tick realtime algorithmic trading systems providing interactive control and settings.
NinjaTrader Development Project Quotations to acceptance & delivery summary
You submit a request for consultancy or custom development with a short description of your project.
We respond and liaise via skype or email and ask if necessary for clarification and supporting materials such as a more detailed description of your project (technical specifications, algorithms, EL code you want to convert to C# strategy, indicators supporting diagrams etc.).
We inform you if we can help you and if we have enough resources at the moment to handle your request.
We estimate time to delivery, project phases and payment schedule and negotiate it with you.
We sign a Non Disclosure Agreement if the project requires it – some are simple and public knowledge which negate the need
We can charge either hourly rate or fixed per project rate, which we negotiate with every customer.
If the project terms are accepted you send an advance deposit and the project commences.
We accept paypal or credit card payment through paypal.com , stripe, you can also transfer the payment directly to our bank account.
Source codes as required will be provided on successful completion and settlement of the project or as negotiated
Source code is stored on your own private repository for large projects at www.visualstudio.com or github or within a private MT repository
Collaboration & Testing of your product is carried out on a  private server  we supply for your project, with compiled time locked code provide with full datafeed and platform for easy test feedback !!
5 reasons to choose MicroTrends for your winning NinjaTrader project
MicroTrends was one of the first leading certified NinjaTrader consultants with ongoing quantitative development specialisation since 2006 – NinjaTrader specialists since 2009, commercial Enterprise level developers since 1995 – a show case of some internals projects can be viewed & tested for free here in our downloads page
Microtrends development team skills are honed from ongoing experience & past careers in commercial IT in the financial sector & prop trading & Investment Banking
MicroTrends developers are a team of three based in London/Europe & Asia/Americas are also very active and keen Forex & Futures traders using discretionary & mechanical systematic approaches – using components offered this website – we are experienced commercial traders and developers.
MicroTrends NinjaTrader Development clients are both retail, other vendors, trading educators & managed futures, prop shops/arcades & private funds so we have the trading & development knowledge you need – you can be assured 100% of confidential treatment for all clients vendors, self directed traders or funds.
MicroTrends is full stack, leading edge .net capable and is able to leverage a variety of development & other commercial algorithmic framework technologies to suit your system requirements
Visit our about us page read more about how experienced MicroTrends & founder Tom Leeson NinjaTrader Development professional
Terms & Conditions
Please note: All amounts are non refundable for consultancy services and products provided regardless if your ideas are viable trading systems or not.We can advise and provide component features and suggestions to make your strategy or trading system increase its chances of being a winner however we are unable to provide trading or investment advice.  MicroTrends standard terms & conditions apply, errors and omissions excluded, please read our terms thank you!
NinjaTrader 7 & NinjaTrader 8 Quantative Development, Consultancy, & NinjaTrader Development
MicroTrends can create your custom indicators, trading strategies from scratch using NinjaTrader or save time & cost & super charge your strategies safely powering them with an off the shelf Trade Engine built on top of NinjaTrader such as the MTDS see below – NinjaTrader C# strategies in realtime Tick by tick execution or on bar close, with advanced NinjaTrader unmanaged mode, constant, dynamic position sizing,  realtime UI control, advanced trade management – without rival in the NinjaTrader development community.
Strategies written in Advanced Unmanaged NinjaTrader mode –The official NinjaTrader Documentation states:" The Unmanaged approach is reserved for VERY EXPERIENCED programmers. …."  
Strategy analysis services both sequential & genetic optimisation, proprietary tick database empirical statistical measurement to assess your Trade Strategy Viability without curve fitting, using NT7 and NinjaTrader 8, proprietary tick data systems & R.
---
MicroTrends Automated Systems Development & Strategy Analysis
Save cost on your NinjaTrader Development &  time using an off the shelf Automated Algorithmic Trading System Framework to power your strategy
You can use a professional automated trading system specialist to write your code and avoid problems but would pay a lot of money for the time it takes to write one from scratch – so the answer is then to use off the shelf ready to use trading system which you simply plugin in your trade system logic – such as the MicroTrends Double Shot Strategy Foundation (MTDS), 100% free for simulator use, includes development support and a software development kit with sample strategies and is battled tested by 100s of traders in live account realtime trading over many years- commercially traded by Tom Leeson, developed and supported by MicroTrends, powering vendors and traders. Each update is rigorously unit test, system tested, end to end tested, soak tested internally and externally before general release.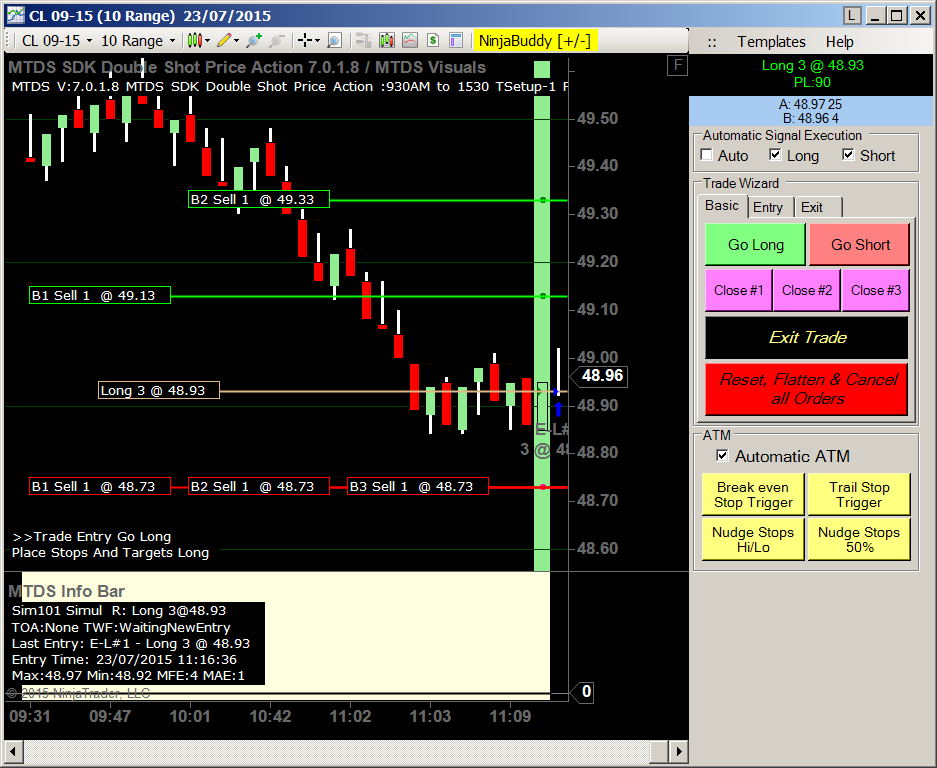 It is easy to spend 6months to 1 year writing the features of the MTDS – you dont need to, simply use MTDS to power your automated trading strategy project and focus your effort only on the logic for Trade Entry, Trade Filter and Trade Exits – the trade setup signal rules and trigger.  All of the entry order types, trade management & real time trading interface to allow control & configuration during live trading are supplied off the shelf & save the cost & time & the time and cost of testing/fixing of a new technology in live trading.
NinjaTrader Strategy Trading Important Notice
All MicroTrends Strategies – NinjaTrader automated trading systems are powered by the pioneered MTDS7 technology – which is an algorithmic tgrading foundation built ontop of NinjaTrader 7 to utilise the "NinjaTrader Unmanaged Approach"
The Unmanaged approach is reserved for VERY EXPERIENCED programmers. In place of the convenience layer that the default NinjaTrader 7 Managed approach offered, the Unmanaged approach instead offers ultimate flexibility in terms of order submission and management. The flexibility required to achieve more complex order submission techniques.
MTDS7 has professional protection against Errors, Overfills, Connection Loss, & Order rejections handling. Over-Fills is a serious issue that can occur when using complex entry conditions that bracket the market in both directions end up with both entries being filled instead of one being cancelled. Over-Fills can also occur when you place a trade quickly hoping to close a position while a prior order to close the same position already had an in-flight execution.  By default, NinjaTrader will protect against over-fills even though you are using the Unmanaged approach by halting the strategy – MTDS keeps running 24/7 and is fault tolerant and self healing.
Be confident with MicroTrends technology with built in intelligent,  automatic fault tolerance for  Errors, Overfills, Connection Loss & Order rejections handling via an institutional trade workflow engine designed by MicroTrends with 100,000s of hours of live trading and testing with 100s of traders over many years.
Get Started or Learn more about the MTDS
MTDS only requires a license if you want to live trade with it – it is 100% free for sim trading – so you don't even need to buy it for your project it is free for development – usually for a development project you can elect to buy the MTDS at a development project rate discount of 10% to 25% off!
Trade Strategy Analysis – BackTesting, Optimisation & Reporting
MicroTrends has the experience combined with it's own tool set and methodology to empower your trading decisions and strategy analysis far beyond those offered by any competitor – we have decades of the many futures market tick data to use on our ready to use back testing servers – which are the latest I7 Core with 64GB memory
Project Cost, Quality and Methodology
Traders: MicroTrends is not the cheapest certified NinjaTrader Consultant and if you are after a 5 minute job or want the cheapest quote please don't waste your time or our time – we provide commercial grade & work to a lightweight Institutional process to ensure what we do deliver is in the minimum time, with the least cost and the maximum quality & robustness. We are not a quoting service. Chosing the cheapest developer to write an automated trading strategy is suicide or a false economy as you will need it coded properly later if you have any funds left and have not blown up your account in a live trading accident – due to overfills unguarded positions or the strategy erroring as is usually expected with the default NinjaTrader strategy managed approach – read here for details.
Avoid False Economy – Do not skimp & cut cost…there are no short cuts… Use a pro and write it correctly the first time, a pro will understand about code performance, extensibility, maintainability, security, readability, unit, system testing and involve you for user acceptance testing – working systematically in a rapid process of development and feedback which guides development and the ultimate product which will evolve.
Avoid code re-writes and additional money later to put it right or add in support and best practices for automated trading, avoid errors with strategy development – which looks great in back test and sim – but in live account trading that might leave you with less money in your trading account than you started with? You get what you pay for – it is a false economy to get the cheapest quote – you will waste time & money if you are tempted to save money instead of going for the best product – be wise get a proven professional to do it… don't be tight.. If you cannot afford a pro you are at risk of the project costing you much more – you should not be trading or considering a trading project until you are fully ready to invest the correct time & budget to obtain your return on the investment.
Use a real professional and pay the correct market price for the correct standard- but also there is no need to pay the most expensive either – Ask your chosen Professional to show you some of their work and proof they can work in unmanaged mode – proof they are a real programmer with a history – not someone who can't make money trading and tries to make it by development – use someone who can trade and can develop.
 Typical NinjaTrader Projects & Work Samples
NinjaTrader Strategy Development
Algorithmic day trading & swing trading systems. Autotrade Futures, Equities, Forex, Pairs, Statistical Arbitrage & Spreads. Consultancy, analysis & development. Featuring on Chart visble trade system rules, backtesting & integrated risk management, money management & adaptive advanced trade management.
Realtime Tick by tick execution or on bar close, unmanaged and managed order handling
NinjaTrader Indicator Development
Setup, Entry, Exit Signals, Audio, Synthesised voice, audio & visual on chart signals & alerts… trend bias filters, volume delta, momentum, order flow analytics, econonmic calendars, support & resistance…
---
MicroTrends Methodology
MicroTrends is a leading Certified NinjaTrader Consultant providing quantitative solutions utilising a lightweight agile software development methodology. A project comprises of one or many phases known as iterations used to ellaborate, construct and deliver your requirements. Each iteration involving partial or the full software development cycle. Our adaptive approach, is incremental and iterative in nature and offers you the maximum flexibility, transparency and control with the least cost, risk and delivery time. Designed and used for the smallest 'Fast Track' 2 hour minimum size projects with simple, well defined requirements to the longer or larger, more complex or partially defined projects.
Software Development Project Lifecycle
SDLC
Conception – User Requirements Definition – statement of user case and system features
Inception – Elaboration of Functional Design, architecture and Specification
Construction

Development
Testing
User Acceptance Testing – UAT
Corrective Development

Transition
Maintenance
Project Collaboration
Collaboration during the project can take place via email, visualstudio.com, Skype, screen sharing or remote control. Documentation, notes, annotated charts, resources/deliverables will be stored and conversations, cases, threads are posted within your own private projects area in the MicroTrends Projects Forum. You are very much treated as a part of the development team during the project, with daily if not more frequent liaison as required. Access details will be provided during the project facilitation phase after which you can post dependencies such as indicators, charts or just provide more details.
Source Control
Project source code will be safely stored and version controlled within our private secure online repository using the latest technology MSTFS 2016. Protected compiled code with time locks or temporary licenses will normally be used for providing product test versions for your feedback and acceptance testing during the project, a protected licensed assembly is provided and source code is supplied or stored to be agreed normally on completion of your project and full receipt of payment.
Development Team
For you project a quantitative developer will be allocated to take it forward and is supported if need be by the rest of the development team. A Project Manager will also be available in an ancillary role for you to contact at any time for any reason for your project guidance and assistance. We can assist with any planning, mediation, facilitation, billing, project timesheets or general queries you may have in confidence on a one to one basis.
If you have any questions or require assistance please don't hesitate to ask. We look forward to building your winning system!
Terms & Conditions
Please note: All amounts are non refundable for consultancy services and products provided regardless if your ideas are viable trading systems or not.We can advise and provide component features and suggestions to make your strategy or trading system increase its chances of being a winner however we are unable to provide trading or investment advice.  MicroTrends standard terms & conditions apply, errors and omissions excluded, please read our terms thank you!
---
---
Disclaimer, Terms, Risk Disclosure & Support Policy
In using this website, services & products you agree to our Terms and Conditions, errors and omissions excluded
You are responsible to read the Full Risk Disclosure & Disclaimers related to trading
Please click here to view our support policy for free and paid for product licenses
Trading and investment carry a high level of risk, and MicroTrends Ltd does not make any recommendations for buying or selling any financial instruments. We offer educational information on ways to use our sophisticated MicroTrends trading tools, but it is up to our customers and other readers to make their own trading and investment decisions or to consult with a registered investment advisor.
Risk Disclosure: Futures and forex trading contains substantial risk and is not for every investor. An investor could potentially lose all or more than the initial investment. Risk capital is money that can be lost without jeopardizing ones' financial security or life style. Only risk capital should be used for trading and only those with sufficient risk capital should consider trading. Past performance is not necessarily indicative of future results.
Hypothetical Performance Disclosure: Hypothetical performance results have many inherent limitations, some of which are described below. no representation is being made that any account will or is likely to achieve profits or losses similar to those shown; in fact, there are frequently sharp differences between hypothetical performance results and the actual results subsequently achieved by any particular trading program. One of the limitations of hypothetical performance results is that they are generally prepared with the benefit of hindsight. In addition, hypothetical trading does not involve financial risk, and no hypothetical trading record can completely account for the impact of financial risk of actual trading. for example, the ability to withstand losses or to adhere to a particular trading program in spite of trading losses are material points which can also adversely affect actual trading results. There are numerous other factors related to the markets in general or to the implementation of any specific trading program which cannot be fully accounted for in the preparation of hypothetical performance results and all which can adversely affect trading results.
U.S. Government Required Disclaimer – Commodity Futures Trading Commission Futures and Options trading has large potential rewards, but also large potential risk. You must be aware of the risks and be willing to accept them in order to invest in the futures and options markets. Don't trade with money you can't afford to lose. This is neither a solicitation nor an offer to Buy/Sell futures, stocks or options on the same. No representation is being made that any account will or is likely to achieve profits or losses similar to those discussed on this web site. The past performance of any trading system or methodology is not necessarily indicative of future results.
NinjaTrader® is a registered trademark of NinjaTrader Group, LLC. No NinjaTrader company has any affiliation with the owner, developer, or provider of the products or services described herein, or any interest, ownership or otherwise, in any such product or service, or endorses, recommends or approves any such product or service.