What's New in NinjaTrader 8?
Over 500 user-driven enhancements including…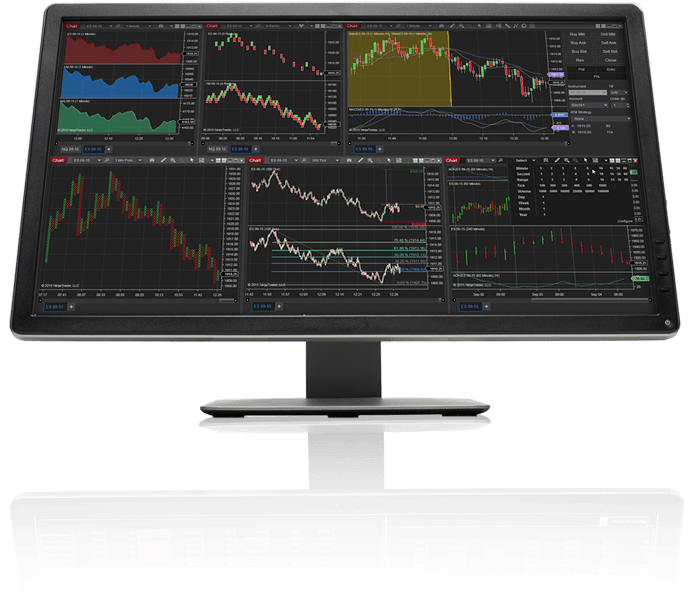 Charting
Charting has been enhanced based on user feedback to include:
Drag and drop functionality to move indicators and chart bars between tabs or windows
Data Series option to "Center" the last traded price on the price scale
Horizontal & vertical scrolling by holding the CTRL key
Improved Equidistant bar spacing mode for viewing multi-series charts mixing non-time based bar intervals
Option to break bars on Data Series for each new EOD session or to continue building until completed
Extended interval selector for customization of any bar type and interval
"No Time Scroll" Crosshair mode with the ability to "lock" a cross hair at a specific time
Ability to enable Chart Trader and NinjaScript Strategies simultaneously from the same window to visualize strategy orders and positions from a single chart
New Alerting System
Completely redesigned Alerts functionality allows for execution of complex multifaceted conditions without programming experience.
Compare two data series or indicator values from an existing chart or market analyzer window
Build conditions around existing market data components, indicators, or drawing objects
Play a custom sound, share a message to social networks, display a custom pop up, or even submit a custom order once the condition has been met
Reset an alert based on triggers such as condition reversed, a custom time interval, or on a reconnection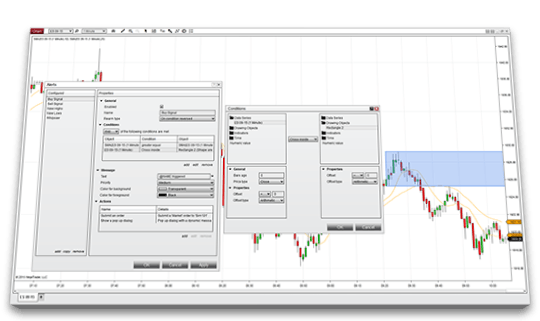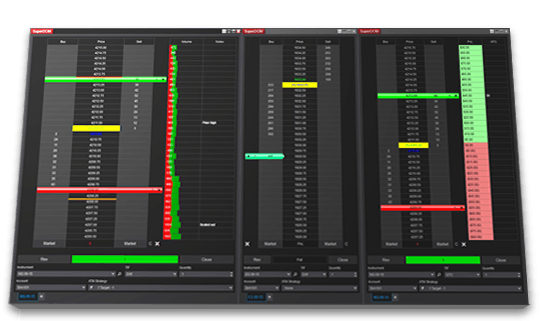 SuperDOM
The Static and Dynamic SuperDOM feature enhanced market analysis functionality allowing users to:
Add indicators on the Price Column display to visualize key market values relative to your specific style of trading
Dynamically add or remove price levels by resizing the SuperDOM window
Configure new columns such as Volume, PnL, Notes, Average Position in Queue (APQ) or custom columns developed by 3rd parties
Automatically "Hold" the Dynamic SuperDOM by hovering mouse over the price ladder display
Configure 10+ levels of market depth on the bid and ask (limited only by the exchange/provider)
Modernized User Interface
A streamlined & dynamic interface maintains familiarity for consistency while optimizing workflow.
Personalize your application "Skin" & share with other traders
Customize new tabbed functionality for simplified navigation and minimize the screen space used
Duplicate current settings to a new tab or even a new window
Optionally configure a warning message to confirm on tab or window close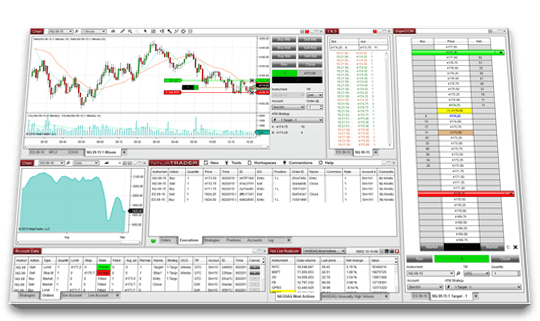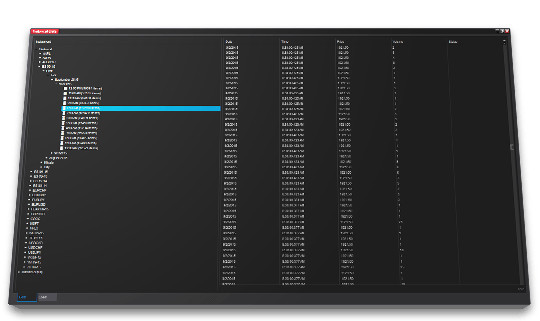 Market Data Enhancements
A rewritten core data engine improves the way market data is processed when received from your data provider.
Sub-second market data time stamps now stored to meet demand for higher precision
Historical Bid/Ask prices now stored with each last trade tick data
Import, export, edit, and download market data (including market replay) all in one location
Set a preferred connection to obtain historical or real-time data from your choice of providers per instrument type
Tick Replay
The NinjaTrader 8 market data engine significantly increases historical tick accuracy allowing traders to:
Calculate indicators and strategies on a guaranteed sequence of historical last, bid & ask events
Obtain values and calculations that went "into" a bar
Improve intraday volume and delta analysis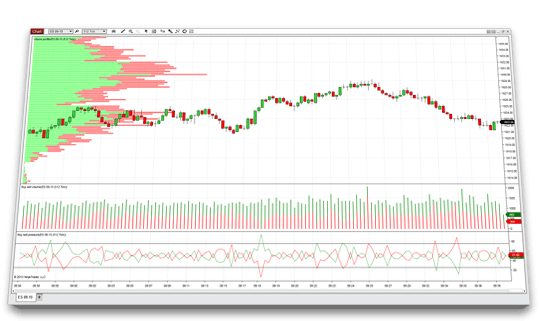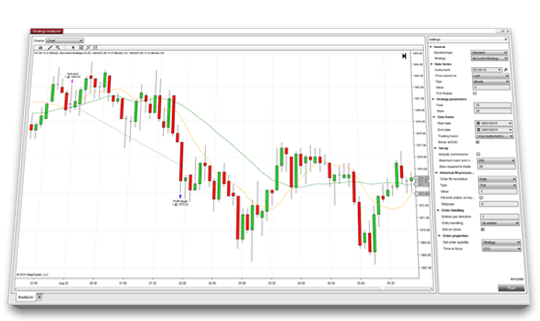 Historical Strategy Fill Processing
Strategies which previously required a higher time resolution programmed for greater accuracy can now achieve this same level of granularity by simply setting a custom resolution.
Standard backtest engine breaks a bar down into 3 segments allowing orders to fill within the bar
Backtest a strategy with intrabar granularity using "High order fill resolution"
Choose a time frame based on minute, second, or tick granularity
Set a custom period value for ultimate control over timing of historical executions
Improved Session Management
The new "Trading Hours" window allows users to exclude certain calendar dates from charts and strategies as well as set a customized End of Day time for a particular date.
Predefined holidays configured and updated from NinjaTrader servers
Ability to add new and edit holidays
Options to configure a full holiday, early close, or partial holiday
Set "End of day" marker to allow for multiple trading segments in one trading day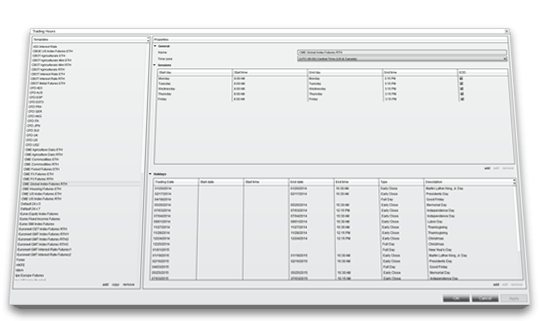 Performance
Modern design techniques deliver greater performance and flexibility than ever before.
Fully multi-threaded core and user interface adds significant performance increases across the entire platform
All connection technologies now work natively in the 64-bit version of NinjaTrader 8
New "Calculate On Price Change" provides ultimate control over how frequently an indicator or strategy calculates on new data
Optimized segmenting of open workspace resources minimizes CPU usage
Reconfigured data processing & storage methods to minimize response time
Improved Strategy Optimization delivers 10x performance gains versus benchmarks
Added support for concurrent historical bar requests vastly improves data load time
Automatically Rollover Futures Instruments
Within one week of a expiration date, an option to automatically rollover all Futures instruments you have active will be displayed in the Tools-> Database window. This process will update all features in your workspace to ensure you are using the current expiry.
Instrument Overlay Selector
"On-the-fly" instrument switching significantly reduces the time it takes to switch an interface from one market to the next. This feature also includes a quick search button to easily navigate to the Instrument Window directly.
Playback Historical Bar Data
Market Replay now has an optional "Historical" mode which allows you to playback your regular tick data. Playback instruments and types which are not available through Market Replay and quickly analyze how bars and indicators may have formed in real-time.
Attach Orders to Indicators
Configure a price action indicator to a SuperDOM or Chart and watch as your working orders are modified to follow the price of the indicator precisely on each tick, on price change, or on bar close. No programming needed and defined completely through the user-interface.
MIT Orders
Market-If-Touched orders can now be used in place of limit orders and Profit Targets to hold in a prepared state until a trigger price has been reached at which point a market order will be issued. MIT orders can still be used locally if not supported by your brokerage.
Enhanced Support for NinjaScript Development
With increased support and the introduction of additional NinjaScript types, you are no longer limited to writing custom indicators and strategies. The possibilities are truly endless: build what you can dream of and integrate it directly into the NinjaTrader 8 application.
---
GET STARTED Trading for FREE – Learn to trade Futures automated trading risk-free Sim/Demo Trading the NinjaTrader Free Trade Platform
---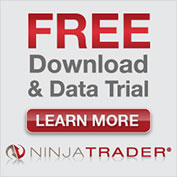 NinjaTrader is a FREE trade platform for advanced charting, market analytics, development & simulation
FREE trading platform, free demo account, free real-time data, no risk, no funds required!
1. GET STARTED CLICK HERE TO GET YOUR FREE NINJATRADER PLATFORM & FREE REAL-TIME DATA
---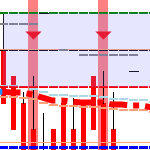 For Traders wishing to use or buy MicroTrends NinjaTrader trading systems
Algorithmic & systematic trading systems for CFDs, Cryptos, ETFs, Forex, Futures, and Stocks.
2. GET STARTED CLICK HERE TO GET YOUR NINJATRADER ALGORITHMIC TRADING SYSTEMS
---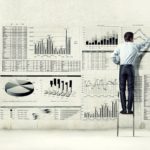 Institutional grade developers from 1995, 2006 Specialist, 2009 Listed NinjaTrader Consultants,  B2B Services only
Hire a leading developer NinjaScript consultant for NinjaTrader Automated trading algorithmic systems
3. GET STARTED CLICK HERE TO GET YOUR NINJATRADER DEVELOPMENT QUOTE FOR B2B
---
Please note the following changes to MicroTrends products and services as of Jan 2018
Since 2018 MicroTrends no longer provides sales and products direct to retail traders – those who bought software in the past are still able to get license support and tech support from the MicroTrends help desk.
---
Disclaimer, Terms & Risk Disclosure
In using any MicroTrends websites, services & products you agree to our Terms and Conditions, errors and omissions excluded
You are responsible to read the Full Risk Disclosure & Disclaimers related to trading
Trading and investment carry a high level of risk, and MicroTrends Ltd does not make any recommendations for buying or selling any financial instruments. We offer educational information on ways to use our sophisticated MicroTrends trading tools, but it is up to our customers and other readers to make their own trading and investment decisions or to consult with a registered investment adviser.